On Design
The beginning of design comes from understanding the site. Most projects have a few problem areas which may include erratic drainage, well water conditions, slopes issues, difficult exposures or soil conditions, to name a few. All of these factors will play a part on the overall design. In understanding your needs, wishes and goals, we seek to find solutions which best address the site.
What are your needs, wishes and goals?
You may need screening, a patio and entertainment area with shade from either an arbor or trees. You may wish to take a path to another spot in the garden where you can appreciate the sound of water and a place to sit among plants which draw hummingbirds, bees and butterflies, all without being seen. Perhaps you would like to incorporate something whimsical. You may wish for a pool and a sophisticated built-in kitchen surrounded by a romantic planting in tiered layers; a cutting garden or raised beds for vegetables. Perhaps you would like to have herbs and other fragrant plants as well.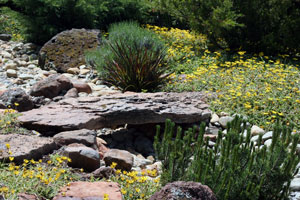 Your front garden space may need improved curb appeal. Perhaps you would like to make a statement, or prefer a more subtle look.
Perhaps you would like all of these features, or are looking for something else entirely. You may not care to have a lawn and would rather try a native plant palette. You may wish to incorporate natural stone or gravel paths rather than concrete. A dry creek may serve your drainage needs. And, for some, negative space is just as important as positive space.
In most cases when determining a design style, it is best to incorporate the design features (above) with the architecture of your house, i.e., French, Italian, Spanish, Cottage, Craftsman, Tudor, Eichler, Ranch, Log Lodge, Oriental or Uncommon Modern, to name a few. This establishesa theme. Moods or tones can be created within your general theme through the use of color, texture, form, movement and light. The plant palette selection should embrace or articulate these nuances.
By incorporating the needs of the owner within a design style, the end result should produce a garden that reflects the unique personality and lifestyle of the owner without sacrificing function.