Welcome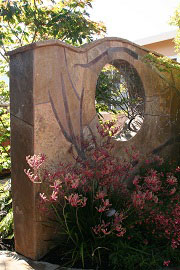 As a native Californian, I have always drawn inspiration from the unique diversity of our natural ecology. For over 20 years, I have been creating gardens and outdoor living spaces which are unique to each client and site situation. These designs are aesthetically pleasing, balanced in function, sustainable when possible and have the longevity to be enjoyed for years to come.
Whatever your style choice and site conditions dictate, I can provide an appropriate design and the assistance to assure that both your aesthetic and practical goals are met. My goal is to exceed your expectations.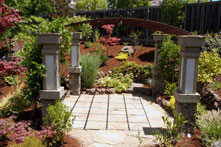 Design style and the composition of texture, color and form are all important factors to be considered for a successful garden design. Hardscape areas, such as patios and walks, and the inclusion of structures, plant selection and garden art should reflect and integrate these design elements. Exposures, grades, drainage, water quality and soil conditions are of equal importance. These factors are skillfully combined into a harmonious blend, one that works with the site, connects you to your surroundings and offers year-round interest; in short, a type of balanced system.